Connecticut Digital Newspaper Project Digitizes Bridgeport Evening Farmer, 1910-1916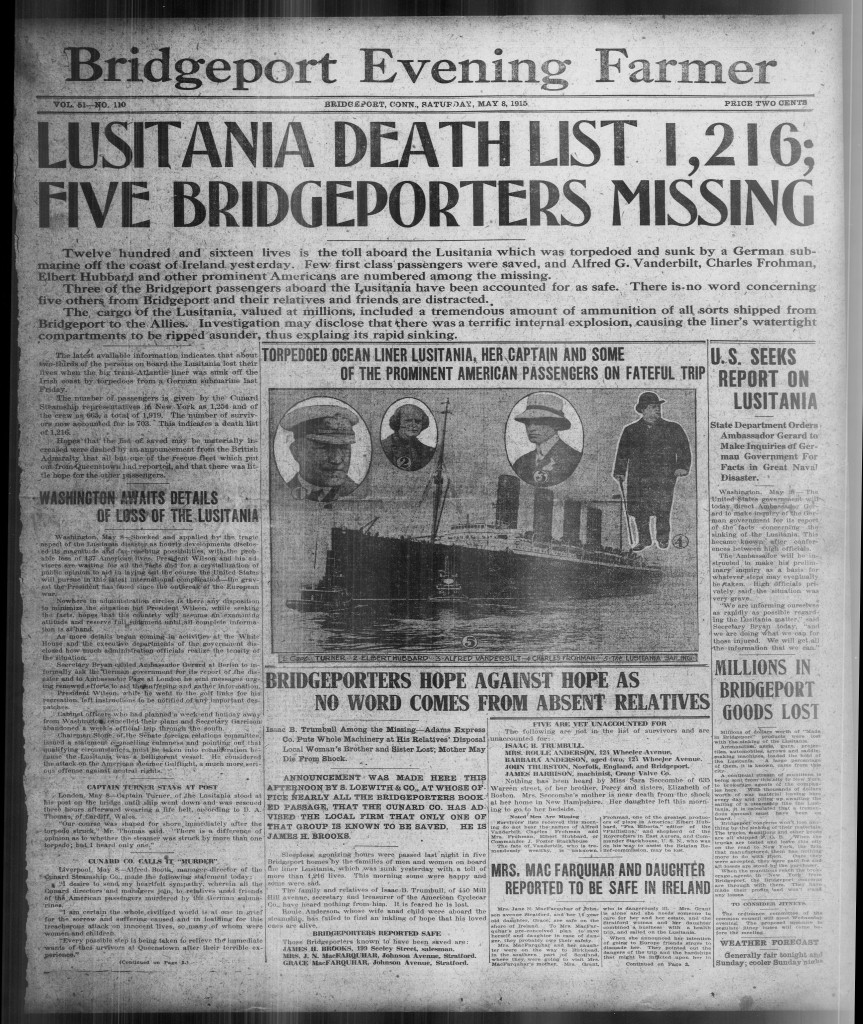 Connecticut Digital Newspaper Project Digitizes Bridgeport Evening Farmer, 1910-1916
[Originally posted on May 8, 2015]
The Connecticut State Library is pleased to announce that it has digitized the Bridgeport Evening Farmer from January 1, 1910 – October 31, 1916 as part of a grant received from the National Endowment for the Humanities to digitize historically significant Connecticut newspapers. The digital images of the Bridgeport Evening Farmer are now included in the Library of Congress' newspaper site: Chronicling America http://chroniclingamerica.loc.gov/.
The Connecticut Digital Newspaper Project Advisory Board selected the period of 1909-1922 because it includes news about such topics as the effects of the First World War in Connecticut, Progressivism, urbanization, industrialization, the birth of the labor movement, and immigrant life. In addition, the digitization of this period provides important documentation about social life, births, deaths, marriages, divorces, illnesses, accidents, high school affairs, and other events of daily life. The Bridgeport Evening Farmer covered not only Bridgeport proper but towns west to Stamford and north into the Naugatuck Valley.
Having access to this newspaper online will be of special interest to those studying the World War I mobilization in Connecticut, as Bridgeport was the site of major munitions manufacture, as well as wartime labor campaigns for the eight-hour work day, higher wages, and the preservation of skilled categories of work. The armaments industry brought thousands of immigrants from southern and eastern Europe to Bridgeport's factories and in these papers researchers will find news of their life in the factory, at home, and "on the town." More issues will be added this spring and summer to complete the run from 1909-1922 and will include the Bridgeport Times and Evening Farmer for 1918-1922 and the weekly Republican Farmer for 1918-1920.
This summer we'll also add 1909 for our other title, the Norwich Bulletin, bringing that run to 1909-1922 as well. See all our CT newspapers at Chronicling America http://1.usa.gov/1MGXmtZ The project website https://ctdigitalnewspaperproject.org/encourages teachers to use newspapers as primary source material, illustrates for genealogists the scope of local news in these newspapers, and features blog entries about the wide variety of topics to be found in the newspapers. The Connecticut State Library is an Executive Branch agency of the State of Connecticut. The State Library provides a variety of library, information, archival, public records, museum, and administrative services for citizens of Connecticut, as well as for the employees and officials of all three branches of State government. Our mission is to preserve and make accessible Connecticut's history and heritage to advance the development of library services statewide. Visit the State Library at www.ctstatelibrary.org|
The National Endowment for the Humanities supports research and learning in history, literature, philosophy, and other areas of the humanities by funding selected, peer-reviewed proposals from around the nation. Additional information about the National Endowment for the Humanities and its grant programs is available at: www.neh.gov. See also the National Digital Newspaper Program http://www.neh.gov/divisions/preservation/national-digital-newspaper-pro… Grants support the creation of a national, digital resource of historically significant newspapers