Edward S. Stephens and Izie Reddick, Connecticut African-American Educators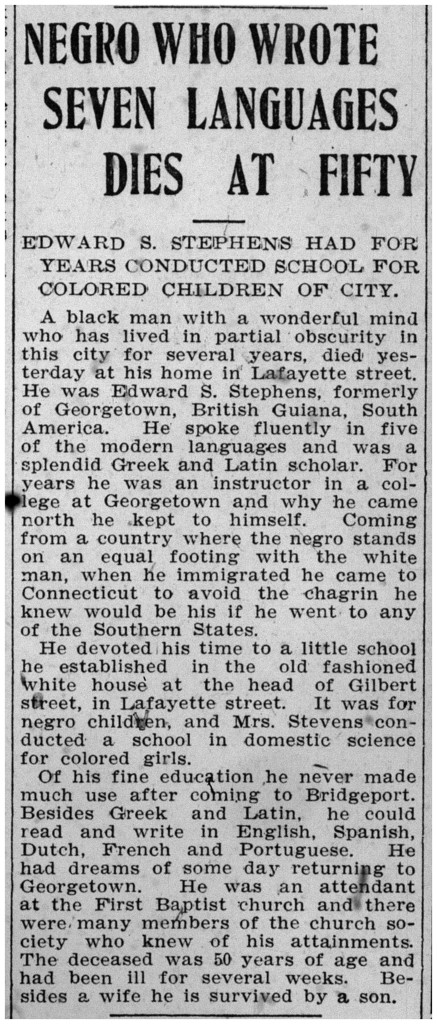 On October 1, 1909, the Bridgeport Evening Farmer carried the article inserted above. Who was this Edward S. Stephens, who spoke five modern languages, read Latin and Greek, taught Black children in his home on Lafayette Street, and died "in partial obscurity?" This obituary contains some tantalizing hints and also, it turns out, some false leads. The reporter says that when Stephens came north from British Guiana, "having come from a country where the Negro stands on equal footing with the white man," he chose to settle in Connecticut because it was an enlightened state. Stephens, it appears, did not originally settle in Connecticut, however, but in Asheville, North Carolina.
According to the finding aid for the "Black Highlanders" collection at the University of North Carolina at Asheville, Edward Stephens, educated in England, was brought in the early 1890's to the United States from the British West Indies by George Washington Vanderbilt so that he might serve as the first secretary of the Asheville Young Men's Institute. The YMI was an important African American institution and still exists today. At the same time, the local school board appointed him principal of Catholic Hill School in 1891. His work as secretary of the YMI was described as very successful. The YMI webpage tells its own history this way:
Today, the Young Men's Institute (YMI) is arguably one of the nation's oldest African American institutions in America. Mr. Isaac Dixon and Dr. Stephens approached George Vanderbilt in 1892 to provide an institution for the black construction workers employed at the Biltmore Estate to improve the moral fiber of the black male through education focusing on social, cultural, business and religious life. Vanderbilt agreed. His decision to finance and construct the $32,000 building was both deliberate and humanitarian. Construction began in 1892 and completed in 1893. The 18,000 sq ft. three story pebble dash and brick building was designed by Richard Sharp Smith, a native of England who served as resident and supervising architect for the Biltmore Estate under architect Richard Morris Hunt. The YMI provided night school for adults, a day school and kindergarten, Sunday School, bath facility and a library. It had a gymnasium, doctor's office, drugstore, reading and meeting rooms, sleeping rooms and a swimming pool. (YMI webpage)
Local accounts of Stephenson's good works in North Carolina end with his disappearance for parts unknown. However, a statement read into the Congressional Record, a scholarly text, and news articles found in Chronicling America, place him and his new wife Elizabeth "Izie" Riddick in Topeka, Kansas, founding a kindergarten and somehow getting the state legislature to fund the opening of the Kansas Technical and Educational Institute. In 1995, Kansas Representative Sam Brownback read this tribute to the Kansas Technical Institute before Congress:
Mr. BROWNBACK. Mr. Speaker, it is my honor to stand on the floor of the House of Representatives and recognize an important part of Kansas and American history and that is the 100th anniversary of the Kansas Technical Institute. One hundred years ago, the State of Kansas created the Kansas Technical Institute that changed lives, providing careers and training for hundreds of men and women. It became a source of information, inspiration, and guidance to thousands.

From the beginning, the KTI was more than a school. To the school family, it became a mission to assist black women and men in pushing back any boundaries, real or perceived, that limited their lives.

The institution was founded in Topeka, KS, in 1895 by Edward Stevens and Izie Reddick. It was called the Industrial and Educational Institute and Mr. Stevens was its first President. The institute underwent many changes over the years, including several reorganizations and expansions. In 1919, it was made a regular State school by the legislature and in 1951, it became the Kansas Technical Institute. . . . (Congressional Record, August 1, 1995, p. H8146)
While in Topeka, Stephens seems to have done more than head up a school. He also seems to have demanded the arrest of the owner of the Copeland Hotel for refusing him a ride in the hotel elevator (Wichita Daily Eagle, January 28, 1896). This bold defense of African American civil rights does seem consistent with other stories told about him by friend and foe. His boldness may have earned him the wrath of a section of the African American elite of the city.
According to the historian Thomas C. Cox, author of Black Kansas, 1865-1915: A Social History, things began to unravel for Stephens in Topeka. Stephens and Reddick, he said, "for all their spirit and enterprise in establishing the institute, were not in the published records of the socially prominent, nor did they have any ascertainable credentials as Progressive reformers" (Cox, p. 152). Stephens was reported, on the other hand, as having gone in front of the Topeka Board of Education and charged some part of the Topeka Black community with corruption (Cox, p. 153). In addition, there is evidence that the local Black press was not sympathetic to his approach to social change. On July 29, 1897, the Topeka Colored Citizen responded with sarcasm to a piece that Stephens reportedly wrote objecting to an exclusively white board of directors at the Institute. The editorial suggests that the Citizen was not overly impressed with Stephen's European education and mocked him for acting as if on a "Mosaic mission."
Soon a series of charges were leveled against Stephens, including that he lacked "Christian deportment," and a committee urged the Board of Directors of the institute to find a new director. "Whatever the validity of the case against Stephens," Cox says, "his name was not mentioned with the institute after 1900" (Cox, p. 153). The Topeka State Journal of July 3, 1903 carried a small notice that said, "Edward Stephens, formerly of the Topeka Industrial Institute, is now living in Worcester, Mass. He is employed as translator for Houghton-Mifflin Company."
Sometime between 1903 and 1906, Stephens and Reddick seem to have moved to Bridgeport, Connecticut, and once again founded a school, but this time in their home. A Bridgeport city directory of 1906-1907 lists Edward Stephens and Mrs. Edward Stephens as superintendent and matron at 843 Lafayette St., a location said to be at the end of Gilbert on Lafayette. Who did they teach? What did they teach? What was the place of this school in the African American community of Bridgeport?

In 1909, Edward, at age 50, died of tuberculosis. Izie [Reddick] Stephens lived until 1943 and was reportedly active after Edward's death in the Phyllis Wheatley chapter of the YWCA. There is clearly much to discover about this historically important, sometimes controversial, pair of African American educators who spent part of their productive life in Connecticut. This would be a worthy research project for anyone dedicated to reconstructing a bit of the lost history of our state.
Sources
"About," YMI Cultural Center, http://www.ymiculturalcenter.org/about/history/. Accessed April 16, 2015.
Brownback, Samuel Dale. "Honoring Kansas Technical Institute on Its Hundredth Anniversary." Congressional Record, Vol. 141, Number 126, August 1, 1995, p. H8146.
"Edward Stephens," "Heritage of Black Highlanders Collection, ca. 1888-1972," Special Collections, University of North Carolina at Asheville. http://toto.lib.unca.edu/findingaids/mss/blackhigh/biography/stephens_e.html.
"The Copeland Trouble," Wichita Daily Eagle, January 28, 1896, (dateline, January 27). Accessed in Chronicling America on April 16, 2015. http://chroniclingamerica.loc.gov/lccn/sn82014635/1896-01-28/ed-1/seq-6/.
Cox, Thomas C. Black Kansas, 1865-1915: A Social History. Baton Rouge: Louisiana State University Press, 1982, pp. 152-153, 174.
"Not the Only Pebble on the Beach," Topeka Colored Citizen, July 29, 1897. Available at the State Library in the Early American Newspapers [America's Historical Newspapers] database.