The "Farm to Table" Movement Really Began in the First World War!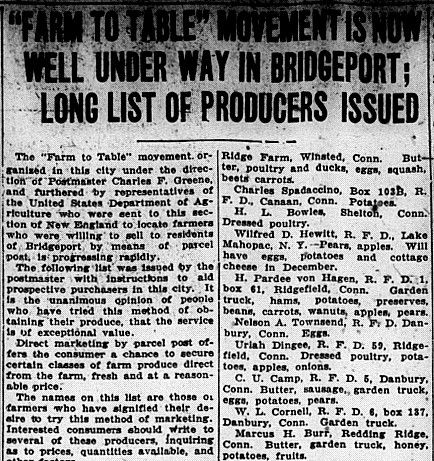 Today the term "Farm to Table" might connote an expensive meal of the freshest local foods prepared by a celebrity chef. Or, it might suggest contemporary arrangements such as those involved in Community Supported Agriculture (CSA), in which consumers buy shares that entitle them to pick up boxes of fresh produce, as it comes into season, directly from a local organic farm.
The term "Farm to Table," however, was used during World War 1 to describe something a bit different. Food shortages during the war flowed from the tremendous needs of the European allies of the United States. A shortage of farm labor also contributed. Many male farm workers either became part of the army or went to work for higher pay in war-related industry. Distribution of produce was disrupted. Food costs could be exorbitant. Efforts to make foods with high nutrient value accessible to people in the cities at low cost had to be undertaken. An article from the Bridgeport Times and Evening Farmer of October 25, 1918 urges readers to take advantage of a new program, set up by the Bridgeport Postmaster in conjunction with the US Department of Agriculture, by which they could order food directly from the farm and have it delivered by parcel post.
Most of the article is taken up with lists of farmers from Connecticut and New York State, along with the food stuffs they could offer. Mrs. Marian Bolles of Shelton, Connecticut, for example, offered to ship "butter, apples, carrots, beets, parsnips, mustard pickles and other pickles in quart cans." Others said they could provide dressed poultry and preserves. Consumers were urged to write to the individual farmers and inquire about prices and quantities available and then purchase in cooperation with their neighbors.
As the war ended in November of 1918, it is not clear how much food was purchased and delivered through this post office plan. Like other WW 1 food supply programs, it is sure to be studied as part of the effort to achieve food sovereignty and security in our time. The Bridgeport Times, 1918-1922 will be accessible online in the Library of Congress' Chronicling America historic newspaper database by the summer.
For Further Research:
Hayden-Smith, Rose. Sowing the Seeds of Victory: American Gardening Programs of World War I. Jefferson, North Carolina: McFarland & Co., 2014.
Be sure to visit the Connecticut Digital Newspaper Project website.